Recovery Station is committed to continuing to not only expand our team to provide a wider range of services and options for our clients, but to find ways to help individuals reach their health and well being goals, whilst also stretching their plan budgets further and increasing access to care.
We are proud to announce that we are now expanding our Allied Health Assistant team across all our regions.
So who are they, and how does this work?
Allied health assistants (AHA) support and assist the work of Clinicians in helping individuals reach their health and well-being goals. This is achieved across multiple disciplines, including speech pathology, physiotherapy, occupational therapy, exercise physiology and dietetics.
The Clinician and AHA meet regularly to review Client progress, and modify the program where necessary to ensure the Client is on track to meet their goals.
The benefits of working with AHA's?
Improved accessibility to quality allied health services.
• Increased level of hours of clinical care leading to improved Client outcomes.
• Improved affordability. On an hourly basis AHAs are at a lower rate, offering incredible value.
---
A recent publication by Senior Speech Pathologist Dr Nik Byrne, discusses there may be many benefits for clients when Speech Pathologists are working with trained Allied Health Assistants for client centred care.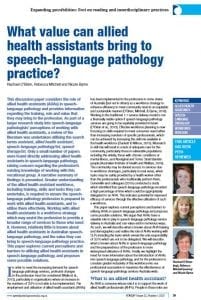 The Speech Pathologist is responsible for the assessment and prescription of therapy and will work with the Allied Health Assistant to identify certain therapy tasks where the client will benefit from additional therapy provided by a skilled practise partner. Examples of tasks might include: practising specific sounds, completing speech sound/ word drills, implementing strategies for word finding problems, practising conversational skills, completing naming activities, practising use of a communication device or iPad, or practising using clear speech.
For some NDIS clients when the Speech Pathologist and the Allied Health Assistant work together the client may have access to more intensive therapy, as well as, have the opportunity to practise their communication skills with a greater number of people which may help carry over to everyday tasks.
For further information including a case study;