Is this just another article or blog from a business to reassure clients that 'we got this'?
Maybe, but we believe it is important, that even though it is still 'information overload' regarding the ongoing and evolving situation of covid-19, we want to ensure, for anyone that is needing a bit more information, that we have it here – publicly available.
Our background is an important part to consider.
Let's start with pre-March 2020. The second week of March was when Australia suddenly and dramatically felt the impact of covid-19. Given that we largely work with some of the most vulnerable in our communities, we were worried! However, we have a really experienced team of clinicians and admin staff, who we are very proud to say, stepped up like the true professionals they are!
We already had strong structures in place to ensure that we could respond swiftly as each situation evolved. From a dedicated management group, who understood what needed to happen, and ensured that all resources were made available as quickly as possible.
To a strong clinical supervisory team, who communicated to their clinicians regularly, and went above and beyond to ensure that their teams were supported. To our extensive administration staff who supported our clinicians by remaining in regular contact with participants, families, carers and support coordinators, and responding to needs as they arose. We also worked quickly to ensure that our clinicians who are on the front line were quickly equipped with increased PPE.
And of course, our wonderful clinicians, who are out there in our community every day making positive differences to peoples lives. Their extensive collective experience – many of whom have worked in hospital settings – ensured we could continue to service their Allied Health needs based on individual circumstances.
So what are we doing (on-going) to ensure the safety of our clients, staff and community in general?
We continue to monitor closely and respond to government advice. By taking the step of registering our covid safe plan, we are simply formalising policies and procedures which are already in place. We do however, also encourage everyone to follow NSW Health guidance and utilise the Covid safe app.
What is included in our covid safe plan?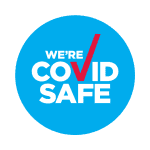 Our plan is thorough – almost 20 pages! So here is just a snippet of some of what is covered;
Risk Assessment – our staff have been trained in how to correctly ensure that risk is accurately assessed, from the time of scheduling appointments, to our clinicians arriving and conducting their appointments
Community visits (including Hydrotherapy) – Additional infection management procedures – we increased our already strict hygiene control measures
Telepractice – Implementing where appropriate – This was offered as a mode of delivery across all clients and adopted very successfully. Many of our clients enjoyed this experience so much, they have now elected for hybrid service delievery.
Clinic and office appointments (infection control, sign in/out, etc)
Messages/Communication with other parties (clients, referrers, public)
Staff Training (Infection control, PPE)
Office Attendance and Alternative Staff Communication Techniques
Cancellations, Billing, Diary Management and other software considerations
Leave policy (sick leave, annual leave, unpaid leave, travel quarantine considerations and managing diaries) – our staff needed to be supported and fully informed for every possible scenario to ensure the safety of everyone.
Management of cases of actual or suspected infection – if there are any concerns, such as indications of possible symptoms, our staff are trained to know exactly what to do – again to ensure the safety of everyone.
As you can see, we have taken the covid-19 situation very seriously, and with our already strong foundations and structures in place, have been able to respond swiftly and efficiently to ensure the safety of all our wonderful clients, staff, carers and their families.
If you have any questions, please don't hesitate to contact us.