We are excited to announce that we are now expanding our Allied Health Assistant team across all our regions. Read on to learn why.
Allied Health Assistants (AHA) support our clients to reach their health and wellbeing goals, while also stretching their budgets further and making the most of their funding. ??
What is an Allied Health Assistant?
AHA's support and assist the work your Clinicians. They support you to reach your health and well-being goals.
This is across multiple disciplines, including Speech Pathology, Physiotherapy, Occupational Therapy, Exercise Physiology and Dietetics. The Clinician and AHA meet regularly to review your progress, and modify the program where necessary to ensure you are on track to meet your goals.
How does it work?
The referring clinician (i.e. Physiotherapist or Speech Pathologist) is responsible for the assessment and prescription of therapy that you need.
They then work with the AHA to identify certain therapy tasks where you will benefit from additional therapy. The AHA will then implement the therapy plan, checking in regularly with the referring clinician to ensure that you are progressing with the appropriate treatments. 
Why choose AHA's?
1. IMPROVED AFFORDABILITY
On an hourly basis AHAs cost comparably less than other Allied Health Disciplines.
2. IMPROVED ACCESSIBILITY TO QUALITY ALLIED HEALTH SERVICES
With lower costs, you can maximise your NDIS budget. ?
3. INCREASED LEVEL OF HOURS OF CLINICAL CARE LEADING TO IMPROVED CLIENT OUTCOMES
The time spent with you, is the only time you're charged for. You won't be charged additional travel costs.
A recent publication by our Senior Speech Pathologist Dr Nik Byrne, discusses the possible benefits for clients when Speech Pathologists are working with trained Allied Health Assistants. link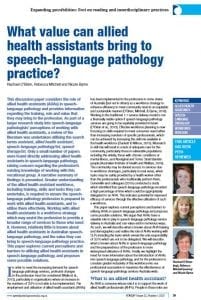 More information?
If you're considering the services of an AHA, it could be worth chatting to our team to find out how to get started. It is a relatively simple process and the best news is that we can walk you through the whole thing. Until next time,